This year's inter club match for The Lost Blackbird's Trophy is to be held on Sunday 28th December with a face off time of 11:30am. The game will be followed by a few drinks in the Club House afterwards. We would like to invite any senior player aged 16 or over to play in this match. Although the match is in memory of all 'The Lost Blackbirds' this year's game will be dedicated to Brian Bowker who we sadly lost in January 2014. The honour of captaining the teams for this year's match has been awarded to Glyn Warrington and Tom McDonald
Please, please, please support this game and if you can get in touch with any of the lads currently away at University or indeed any ex-players who have moved away but may be in the Poynton area over Christmas. It would be great to see them down and have a chance to catch up, get involved and have a beer or two after the game.
For those that would like to play please can you e-mail JP (John Parry) at john@3parrys.co.uk let your current captain or coach know or Glyn and Tom. Spectators are also most welcome. The games have traditionally been very well supported and are a good laugh, a great way to remember our Lost Blackbirds and a great way to run off some the Christmas excesses. Below is a little detail about the Lost Blackbirds.
The Lost Blackbirds Trophy
The concept of the game is to remember and honour those 'Blackbirds' that were still actively involved within the Poynton Lacrosse Club when they sadly passed away. The club organised for a trophy to be played for and 'The Lost Blackbirds Trophy' has become an annual Christmas event with games being held since 2011. Currently there are now 5 names on the Commemorative Trophy which is proudly on display on the right hand wall as you go up the steps into the Sports Club bar area. Although not all the names may not be known to all of the members particularly new and younger players it may be of interest to some to know a little bit of background on the 5 Lost Blackbirds whose names are engraved on the Trophy:
Jack Wilkinson (Passed away 1991) – Jack is one of the main reasons that we have Lacrosse at Poynton as he was one of the key members who negotiated the move from Offerton to Poynton. Without Jack, Poynton Lacrosse may never have existed which is almost unthinkable when you look at how strong the Club is now. Jack also served as the President of the International Lacrosse Foundation which at the time was probably the highest accolade in World Lacrosse. He was also heavily involved in the administration of the sport serving the governing bodies of English Lacrosse, the ELA and NEMLA. Despite his involvement in all the international and national groups Jack always retained his interest and passion for Poynton Lacrosse and was a regular spectator at most Poynton matches and active committee member until he passed away.
Sean Johnson (2001) – Without a doubt the loss of Sean was the greatest tragedy to hit Poynton Lacrosse. Sean was only 15 at the time he passed away and was representing Poynton in the World Youth Games in London when he suddenly collapsed with no one near him and tragically did not recover. Sean was a member of the Junior Squad that included current players such as Andy Worrall and Sam Davidson. It was so sad that we never got to see Sean's full potential as a player but am quite sure he would have been another one from a great junior team to make the grade at senior level as he was considered to be one of the best junior prospects at that time.
George Matthews (2010) – George was another stalwart of the club and one of the original group of Offerton players who came to Poynton. George was both an outstanding attack player and goalkeeper. Most juniors who came into the Poynton senior sides were greeted by George with the words 'Right son don't shoot at the goal shoot the ball at me and I'll finish it off'. We used to think this guy is crazy but soon learnt to do what we were told and were amazed as he virtually saved our shots and then flicked past the goalkeeper. When he played in goals he also used Bubble Wrap as additional padding and you could hear the pops as he saved shots!!! George was another who stayed loyal to the club when his playing days were over and took on roles such as Membership Secretary and Treasurer as well as being a regular spectator at most Poynton matches.
Adam 'Jibber' Kendrick (2011) – Adam was another who was tragically was too young to be taken from us. By his own admission, Adam, was never the greatest of Lacrosse players but was the dedicated type of person that every club needs. Jibber as he was fondly known was happy to be involved and do what he could without hesitation to help anybody out and would turn out for whichever team he was asked to play on. Adam was so proud to have played a handful of 1 st team games but was just as happy playing for the 'B' and had a really good season at Captain of the 'Mighty 'B' When Adam stopped playing he was often seen at matches with his camera in hand snapping many of us in full flow. Not only was Adam a great Lacrosse Club member but was also a very popular member of the wider Poynton Sports Club.
Brian Bowker (2014) – Brian is the best example of how Poynton Lacrosse Club stretches across so many generations which helps the club be so strong. Brian was like a 2nd Father, Grandfather or Uncle to so many of us and a great friend to all. He knew most people young and old and they knew Brian. Remarkably Brian had never played Lacrosse, but was always on the side lines supporting his son Glenn and stayed loyal to Poynton even when Glenn eventually left to join Mellor. As Brian's knowledge of the game grew and grew, in only the way he could. In Brian's own way he would let you know how you had played (Good and Bad). Renowned for his legendary coffee Brian's trusty thermos flask is now used in the traditional Saturday MVP. Brian is a real legend of Poynton Lacrosse who won't be forgotten easily.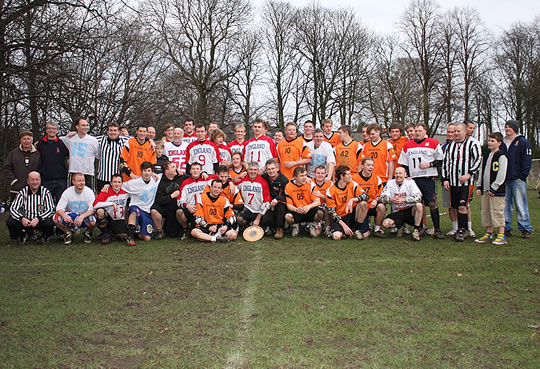 JP