SUPPORT THE CLUB & SAVE MONEY WHILE YOU SHOP! ...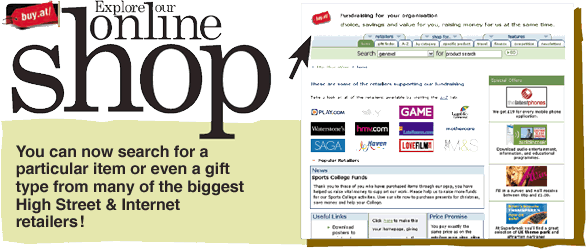 Shop for your favourite items and help raise funds for your club! - We have set up a BUY.AT online shop where you can get some fantastic online bargains, find cheaper gas and electricity services and even book a holiday.
Anything you buy through our webshop will help towards our fundraising targets to continue to improve equipment, grounds and training for both Junior and Senior members.
How Does It Work?
If you are looking to make an online purchase, just check out our BUY.AT page first. You can use the 'Search' facility to compare a product name with all the retailers to find the best price. If you buy the item you are looking for, the Club will receive a small commission.
You pay exactly the same price as on the retailers main sites, often lower than on the high street. The money earnt by Poynton Lacrosse Club is paid by the retailers so you don't pay any extra (in fact, in many cases there are special offers where you can save on normal prices and the Club will still get a contribution).
High Street Names - Online Deals!
These are just a few of the many well-known high street retailers supporting our fundraising :
Visit Our Main BUY.AT Shop Page Here :